Miss Toronto Cruise Hosts
Meet The Captain - Terry Turl!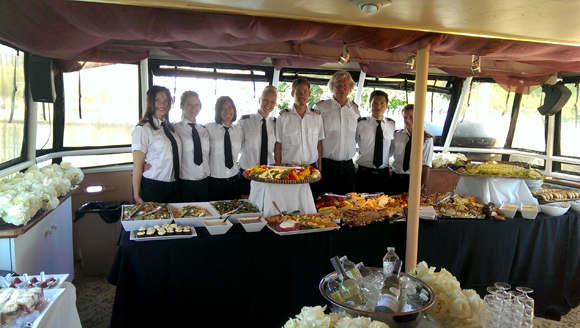 Miss Toronto's crew are marine professionals who will ensure your utmost safety and comfort. From the Captain to the bartenders, deckhands and servers, our mission is to make your adventure on the yacht a safe and memorable one.
First Mate, Mr. Jenfrit (Henry) Martinez has been sailing on Miss Toronto for over 10 years. His beaming smile and courteous personality make Henry a hit with guests and fellow crewmembers alike. Henry was once a professional baseball player at his home in the Dominican Republic. He is the harbour's premier salsa dancer and has been known to lead the occasional salsa class onboard, much to the delight of many of our female passengers.
Senior Hostess, Yeehua (Bean) Peng, has won the hearts of our guests with her energy and dedication to service. Bean is a student at McGill University and loves athletic endeavours of all kinds, perhaps this is why she is so good at running between decks carrying trays of ice cold drinks.
Andy keep your toes tapping as he plays the latest hits or tunes from the past. Like the rest of our crew he will attempt to satisfy all of your requests.

Jessica, our Cruise Director, worked close to 80 cruises on Miss Toronto last season and had a blast! She enjoys going to her cottage or camping with any time off -- or just a dingy ride to the Toronto Island beach if Trevor is willing to take her! For Jessica, Miss Toronto provides a fun family in which to spend the summers away from the stresses of University.
Growing up, Laura made countless memories from her summers spent at sailing camp and on her family's sailboat exploring the Thousand Islands. During the year, she spends her time studying environmental and social issues/topics, while simultaneously practicing her french.